"I have been blown away! Shawntay's program was hands down the best decision I made to upskill." ~Cory
[HIRED! Teacher to Digital Learning Strategist]
The Instructional Design & Tech Accelerator System is
one of the most comprehensive A to Z ID education systems
available to help you get skilled up in as little as 12 weeks and applying for jobs!
Before I Tell You All About This Life-Changing Accelerated ID System, Let's Talk About Who This Is Really For...
The Instructional Design & Tech Accelerator System is for ambitious career changers with no shortage of commitment who are tired of feeling burned out, working in jobs with little or no appreciation, trading dollars for unhappiness or worse, misery, and are ready to make a life-changing transformation into a meaningful career that can bring joy, opportunity, growth, and set you up to live your best life!

Teacher or a Professor?

Are you a teacher or a professor who is ready to leave the classroom for a career that has better pay and more advancement opportunities? Are you tired of grading papers or being overworked and underpaid? Do you want to transfer your existing skills to a new career in instructional design?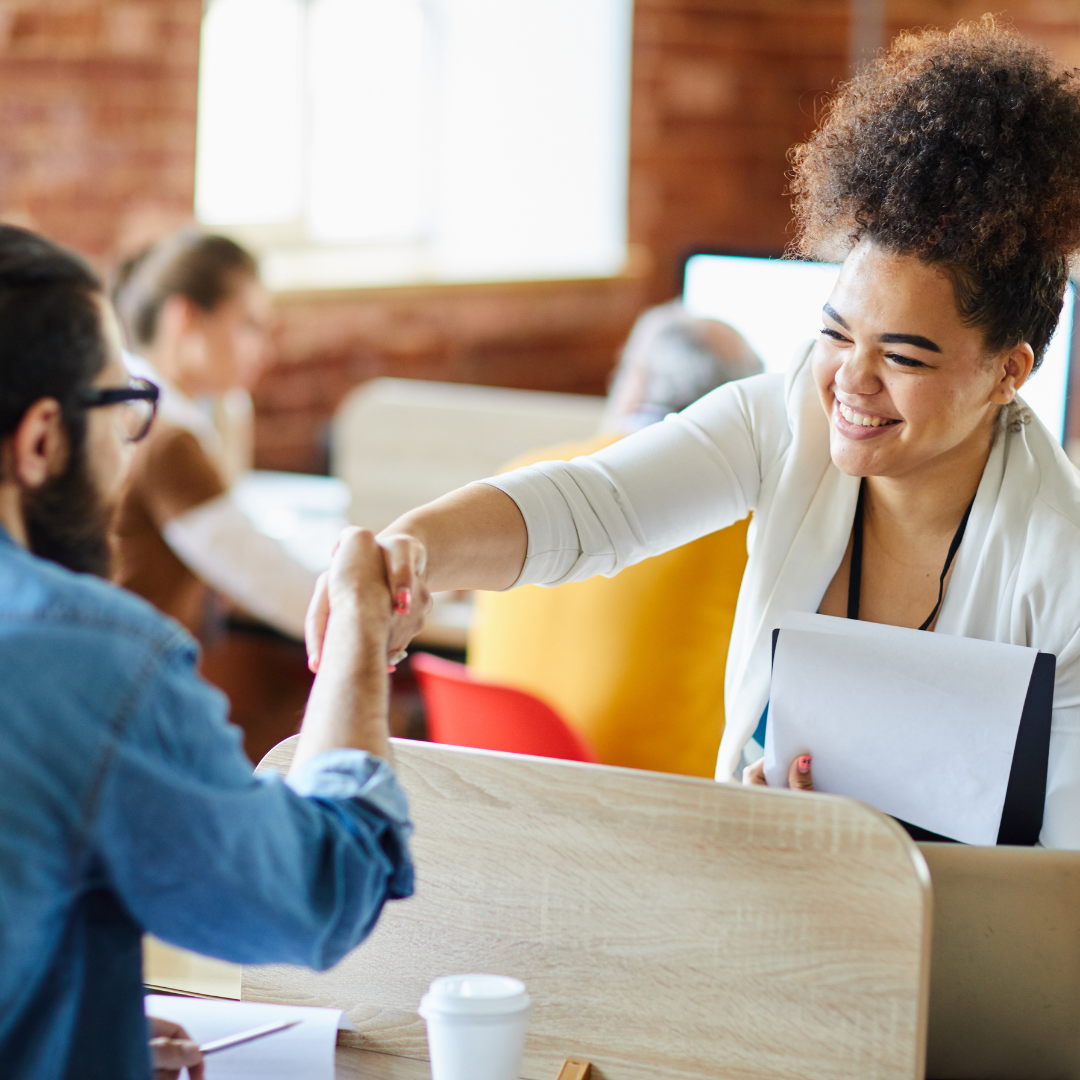 New Grad or New Hire?

Are you a new grad or did you just get hired in your first instructional design job? Not sure you are prepared to excel in instructional design? Are you looking for real-world, hands-on practice because you don't feel confident in your skills or abilities? Do you want to eliminate imposter syndrome and boost your confidence?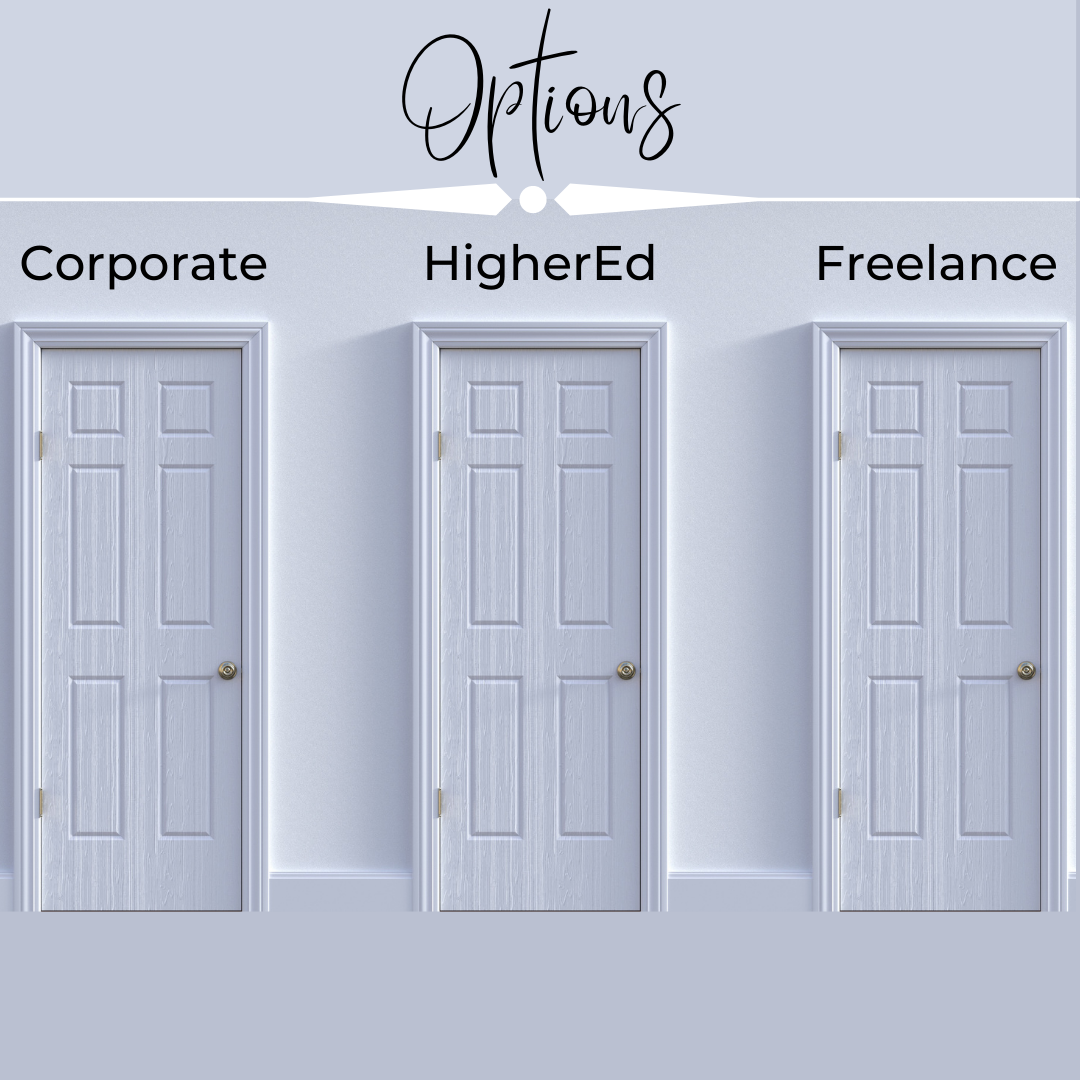 Want More Career Options?

Are you interested in pursuing a career that gives you more options? Wouldn't it be great if you could work as a corporate instructional designer and earn higher wages or work as a HigherEd ID and take advantage of academic benefits or work as a freelancer to earn extra income?

Krista says, "The Program is a great value and the community is priceless."
[HIRED! Teacher to Instructional Designer]
In the Instructional Design & Tech Accelerator System, you get LIFETIME ACCESS to a ROBUST CURRICULUM designed to get you skilled in all the essential areas of instructional design in as little as 12 weeks!!


($3,985 Value)
👇👇👇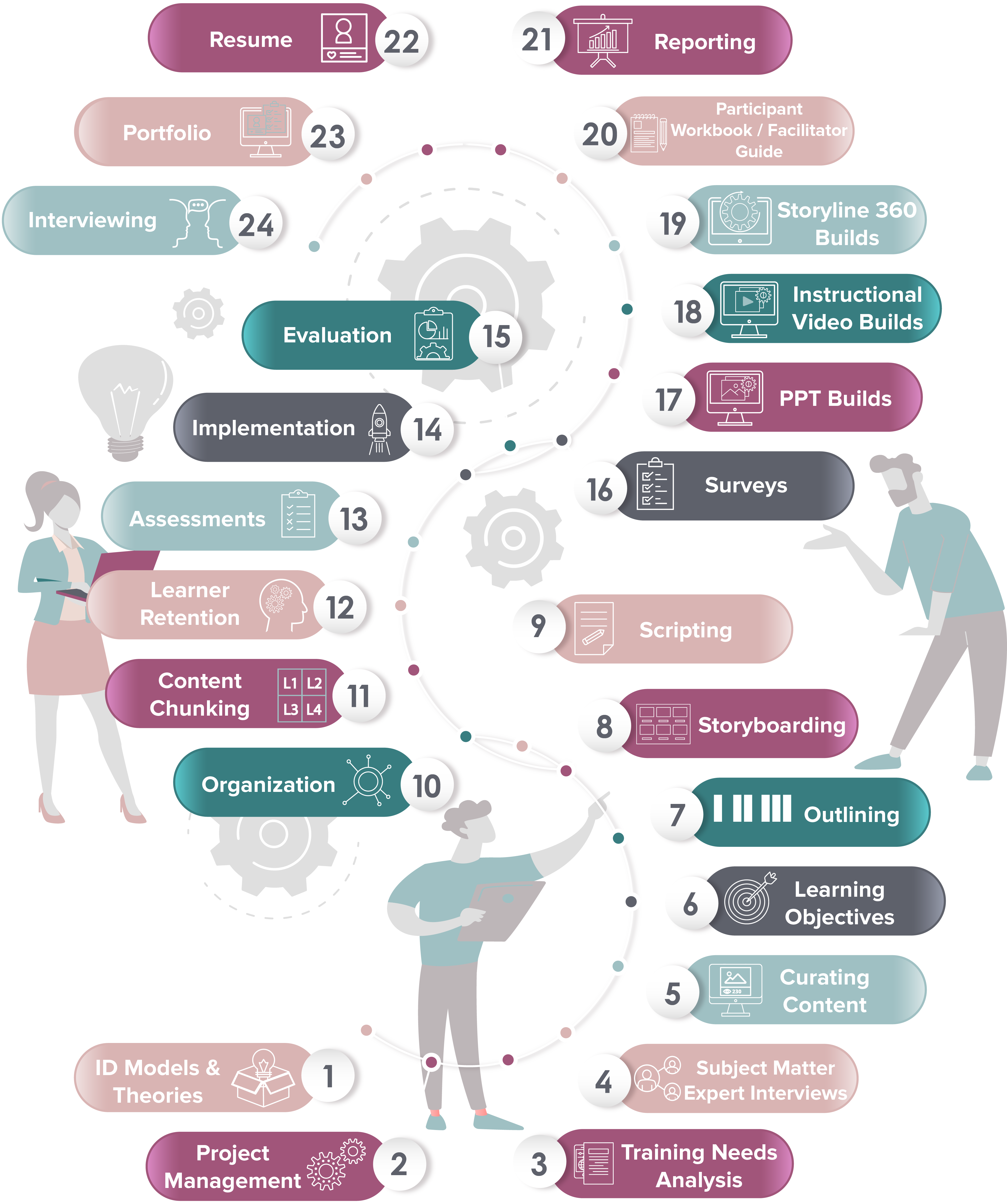 Everything you see above and left AND MORE is included in the curriculum!
The Instructional Design & Tech Accelerator System has a unique accelerated ID curriculum that teaches you
L&D Project Management
Instructional Design Essentials
Instructor-Led Course & Asset Development
eLearning & Instructional Video Creation
How to Create Your ID Career Toolkit to Land a Job!

The BEST part...there's no need to wait for a start date! YOU CAN START TODAY! This program is open 24/7/365 with immediate access to our comprehensive curriculum, Accelerator Community and live coaching sessions! The curriculum was updated for 2023!
WE ARE COMMITTED TO YOUR SUCCESS!




Choose the Pricing Plan that Works Best for YOU!


Here are 15 ways the Instructional Design & Tech Accelerator System Can Help You Get An Instructional Design Job in 2023!

You will be READY to APPLY for Instructional Design Jobs and IMPRESS prospective employers!
You will have a PORTFOLIO with 10+ assets that you have created to WOW prospective employers.

You will have mastered how to PROJECT MANAGE L&D projects and use project management tools.

You will be able to

DEFINE LEARNER PERSONAS

and project needs and create an instructional approach that meets those needs.

You will be able to LEAD PROJECT KICKOFFS, ANALYZE NEEDS, & WORK WITH SMEs.
You will have PROVEN ABILITY to design and develop training courses for INSTRUCTOR-LED, eLEARNING, and VIDEO based learning experiences using a variety of development/authoring tools such as Adobe Premiere Pro and Articulate Storyline 360 & RISE.

You will be able to

DEVELOP CONTENT

and design lessons in alignment with learning objectives, outcomes, and KPIs.

You will be able to

CONVERT INSTRUCTOR-LED

training

to eLEARNING

quickly.

You will be able to design

LEARNING EXPERIENCES

that respect the DIVERSITY of learners.

You will be able to

EVALUATE, MEASURE, & REPORT

on the performance of learners and programs.

You will be able to apply the instructional systems design model

ADDIE

to your build process.

You will be able to get

PEER & SUBJECT MATTER EXPERT FEEDBACK

to ensure the learning experience is effective and correct.

You will be able to BUILD FACILITATOR GUIDES & PARTICIPANT WORKBOOKS to enhance instructor delivery and the participant's learning experience!
You will have a PROFESSIONAL INSTRUCTIONAL DESIGNER RESUME to share with prospective employers!
You will have NETWORK of aspiring instructional designers and expert coaches to lean on for support!
*I am confident that you will find these skills are required skills for most of the instructional design jobs you apply for!

LIVE Coaching Sessions Every Week!
($2,400 Value)

In the Instructional Design & Tech Accelerator System, you have 3 months of access to REAL PEOPLE for REAL SUPPORT!
Pop into one of our weekly live coaching sessions to get expert support from experienced professionals!
We provide live coaching and support in the areas of L&D project management, instructional design, instructor-led courses, eLearning, instructional videos, career coaching, and portfolio development!
Bring your questions and your projects and we will help you work through your sticking points!

Don't have any questions, no problem! Just pop in and listen and learn!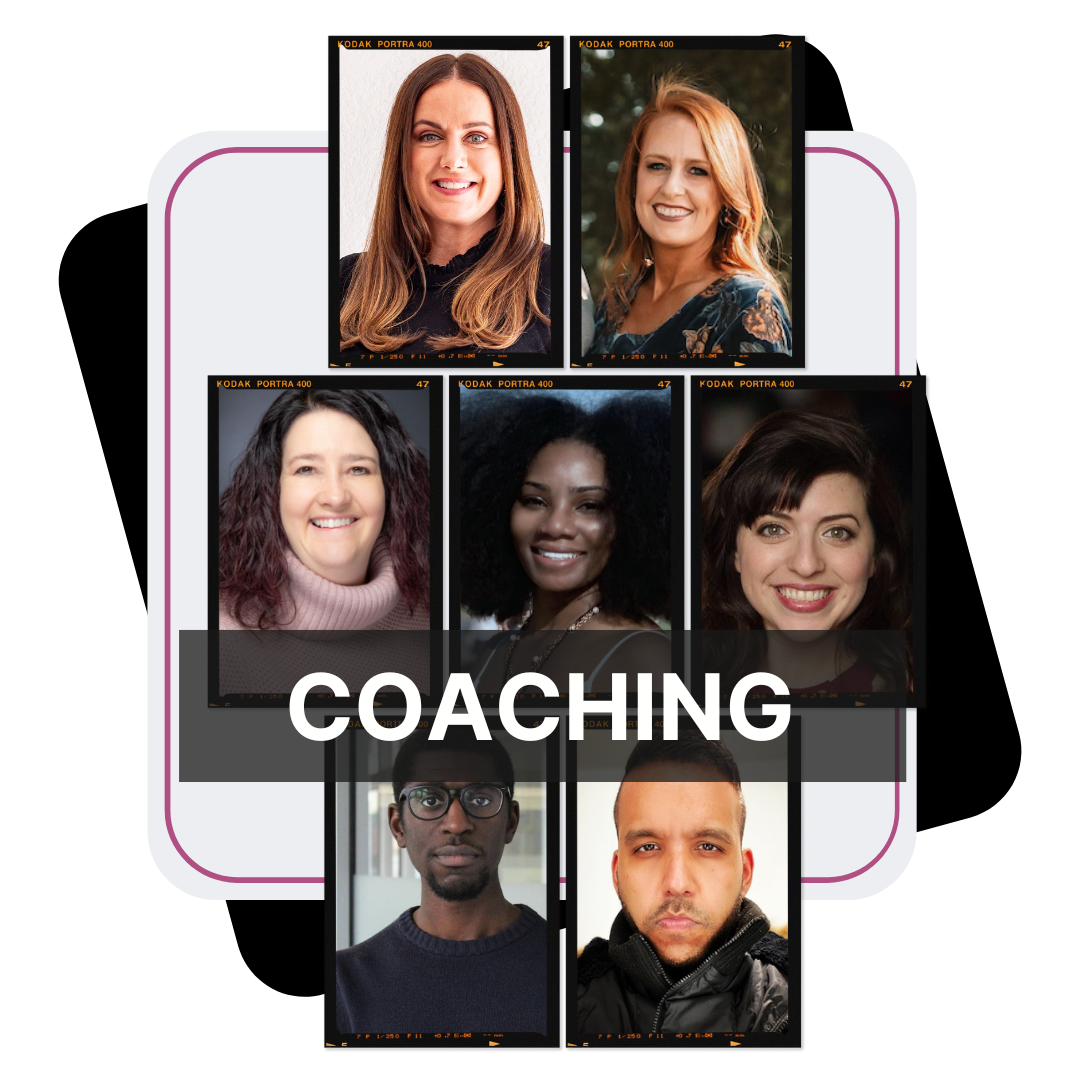 "It's really changed my life. It's had a huge impact. It's one of the best decisions I've ever made." ~ Josie
[HIRED! Teacher to Instructional Designer]

Submit Your Work & Get Growth Oriented Feedback!
($2,000 Value)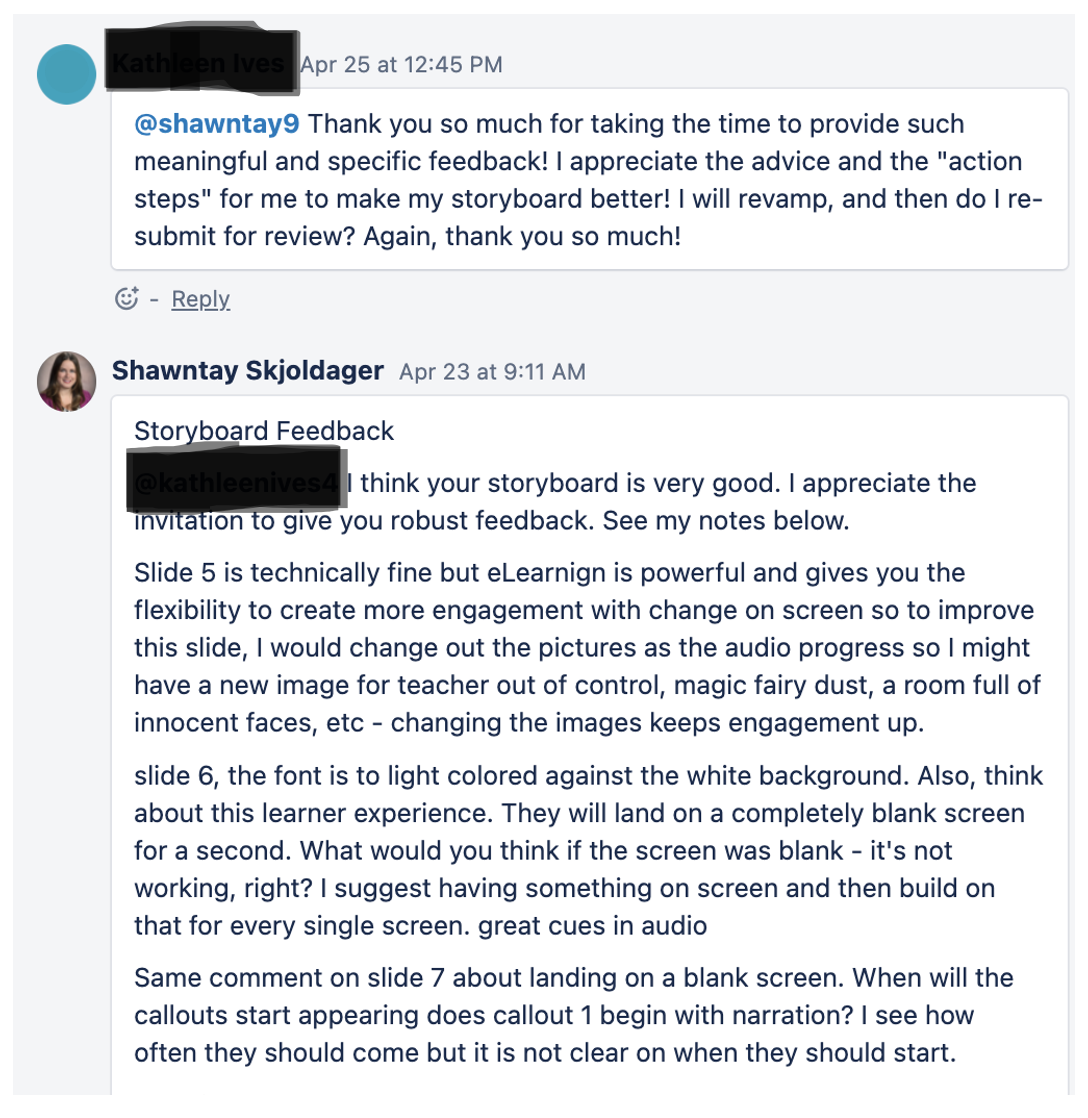 Our ID Accelerator Framework is one of the best services we provide to ACCELERATE YOUR GROWTH and development in instructional design!

When you put tons of hours into learning and completing instructional design projects for your portfolio, you want to make sure they are impressive, right?
Because we know you are serious about becoming a professional instructional designer, we do our part to help you develop strong ID skills with 3 months of work reviews and feedback from experienced instructional designers!
You put in the work to Learn - Apply What you Learned - Get Growth Feedback from an Experienced Professional - Learn & Apply the Feedback to Accelerate Your Development!


This is one of the MOST VALUABLE aspects of our ID Accelerator System.




In our ACCELERATOR community, you will find other driven and dedicated ACCELERATORS who are on their instructional design and eLearning development journey just like you.
($594/yr Value)
Our awesome community is filled with support, inspiration, motivation, ideas, resources, and new ID friends! Many ACCELERATORs build lasting friendships through their journey and experiences together in our community. These friendships help keep you going when things get challenging and can help you elevate your career by creating a network of colleagues in the L&D space. Networking is invaluable!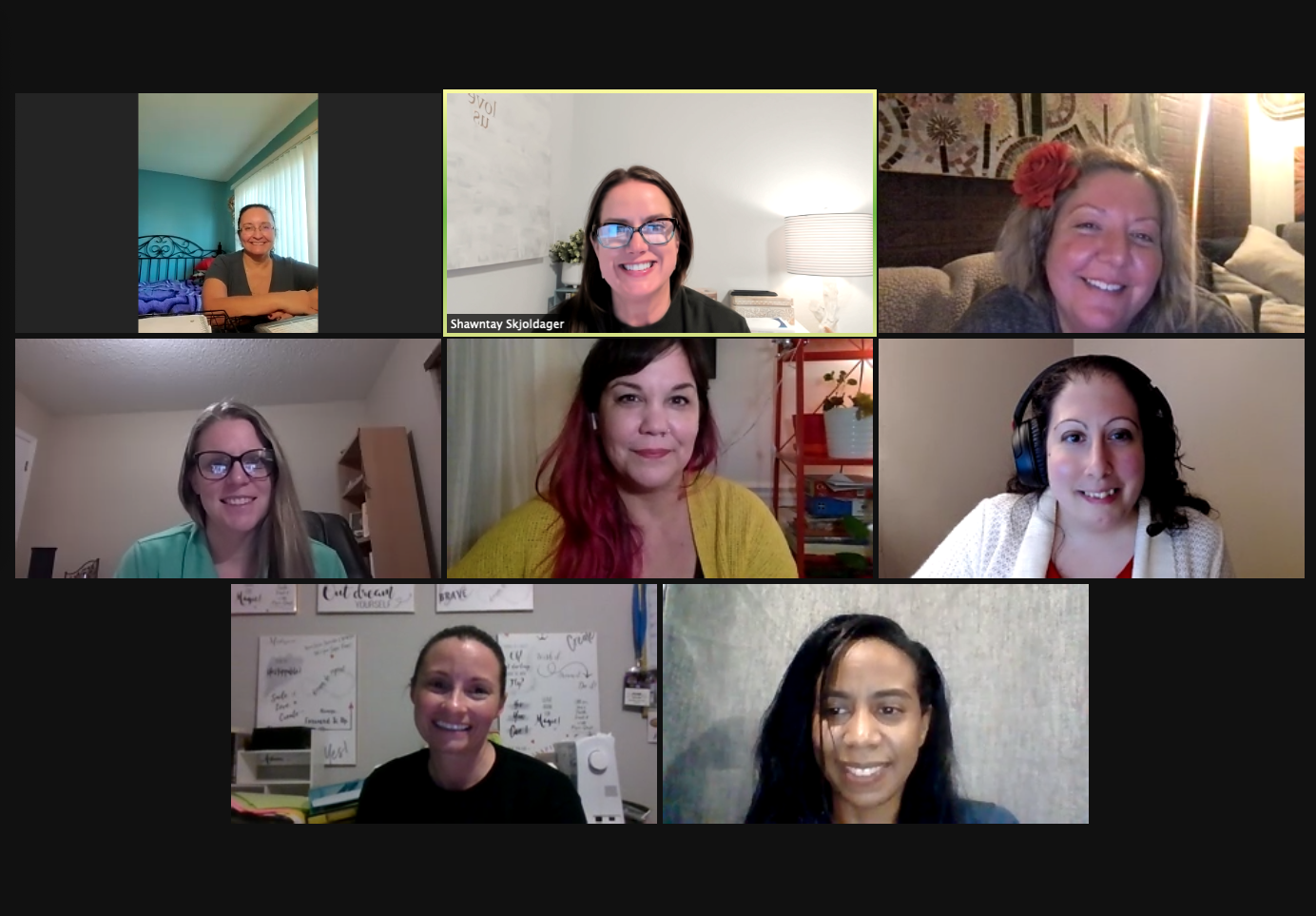 Network! Network! Network!
In our private Accelerator Community, there are many opportunities for you to learn from and network with other future instructional designers. From your accountability groups, to interactive coaching sessions, other live events, and our fun, laid-back networking events!

"It's just an amazing opportunity. And, anybody would be crazy to let this go by." ~ Gayle
[HIRED! Graphic Designer to Instructional Designer]
Choose the Pricing Plan that Works Best for YOU!
What's inside the Instructional Design & Tech Accelerator Curriculum?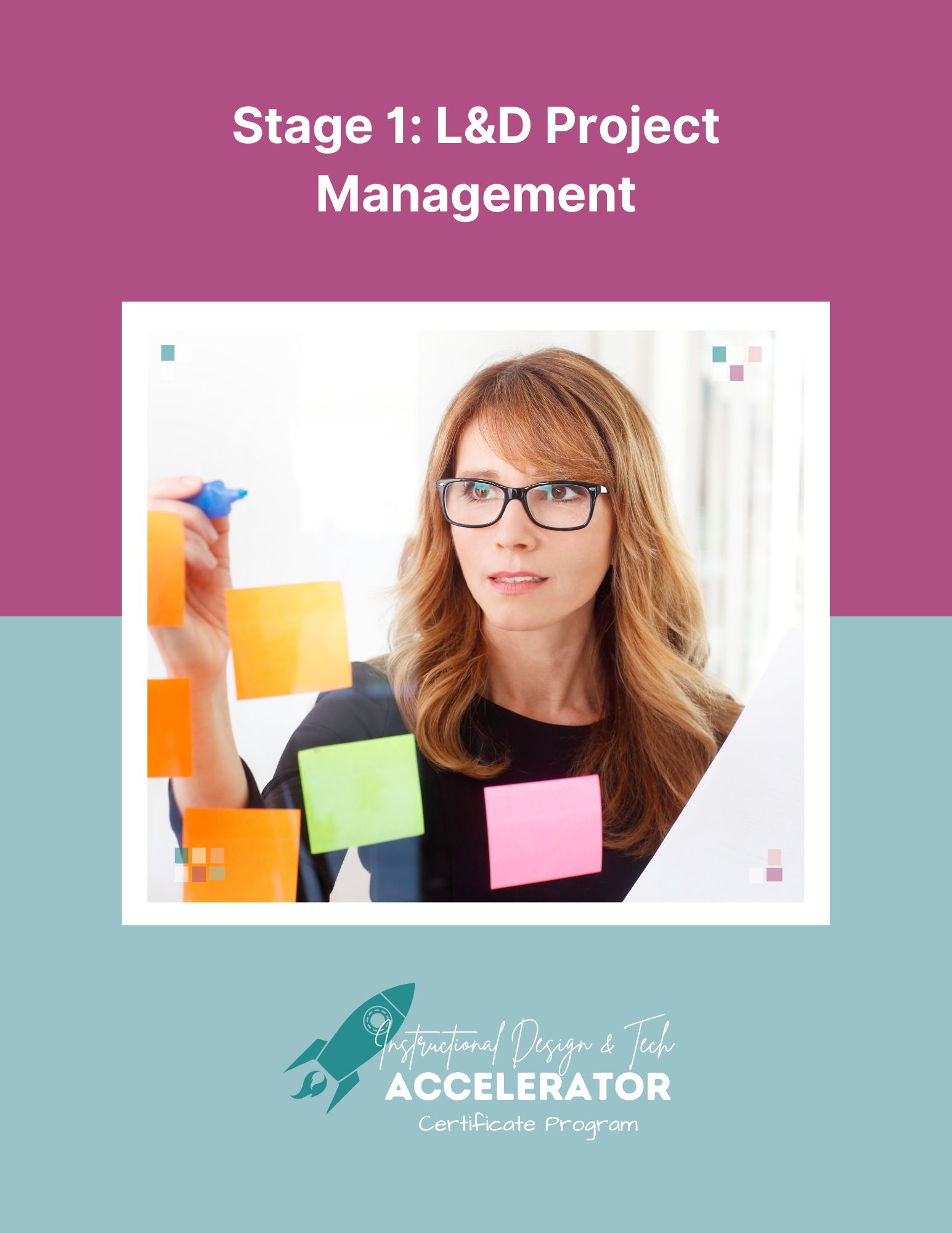 Stage 1: L&D Project Management
We set you up for success by introducing you to the project management skills learning and development professionals need to manage small and large projects. From the very beginning of your journey in our Instructional Design & Tech Accelerator System, you will be immersed in project management.

We'll teach you how to use project management tools, how to organize your work and collaborate on projects and communicate project status.

Plus, we'll prepare you to answer interview questions related to managing your L&D projects!
Templates provided!





Stage 2: Instructional Design Essentials
It is truly essential that you know the foundations of instructional design in order to build quality learning experiences for live and eLearning courses.
In our ID Essentials stage, you will learn about instructional system design models such as ADDIE and SAM as well adult learning theory, how to structure content to maximize learning and how to reduce learning loss.
You will learn how to work with subject matter experts, define learner needs, write learning objectives and engaging lessons, complete training needs analyses, design documents, project briefs, and so much more!

Plus, we'll prepare you to answer interview questions related to instructional design essentials!

Templates provided!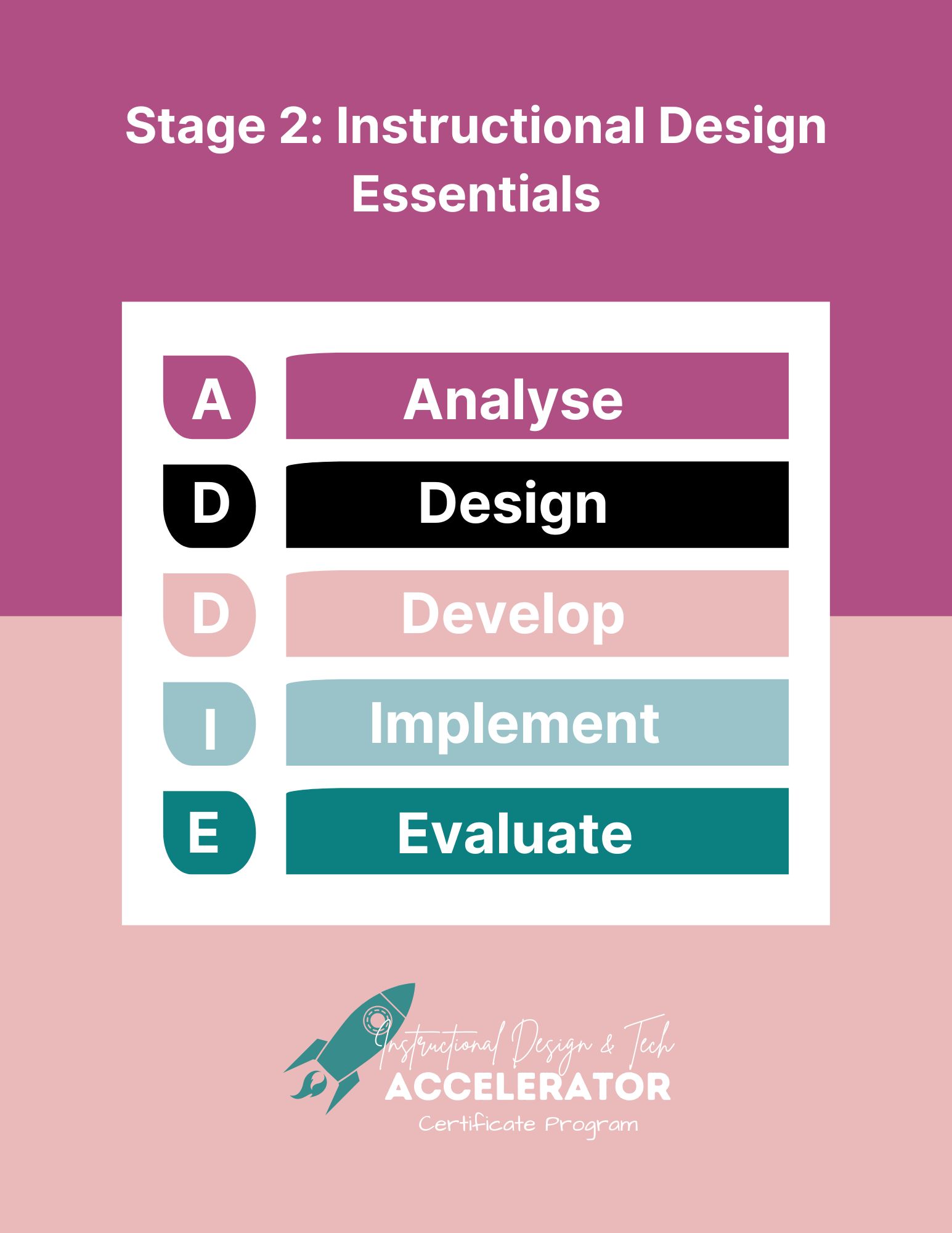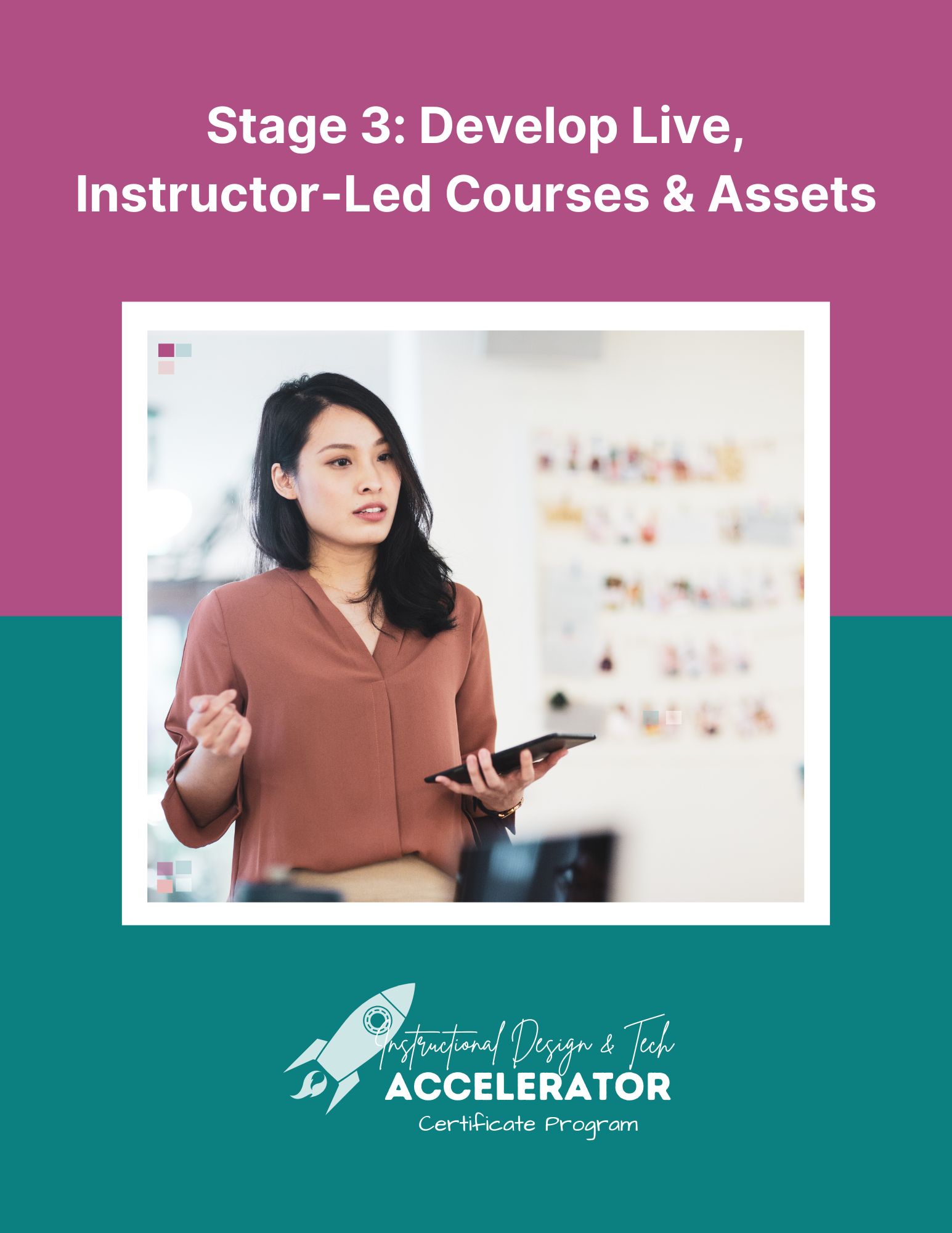 Stage 3: Develop Live Instructor-Led Courses & Assets


By the time you have finished this stage, you will have applied your newly developed instructional design essential skills to build your first instructor-led (ILT) learning solution for your portfolio!

You will also have built a facilitator guide to support the facilitator's delivery of the in-room instruction and a participant workbook to help keep participants engaged in the learning experience.
Everything you do in this program builds upon the concepts you learned in the previous lessons!
Plus, we'll prepare you to answer interview questions related to creating instructor-led courses and support materials!
Templates provided!



Stage 4: Develop eLearning Courses & Instructional Videos
This is an exciting stage because this is where we get to start really exploring rapid authoring tool technologies, Articulate Storyline 360 and Rise 360, as well as the video editing technology, Adobe Premiere Pro!
In this stage, you will learn how to create storyboards, lessons in Storyline 360 and Rise, and produce and edit instructional videos! All of which are assets you will add into your digital instructional design portfolio!

Plus, we'll prepare you to answer interview questions related to creating eLearning courses and instructional videos!

Templates provided!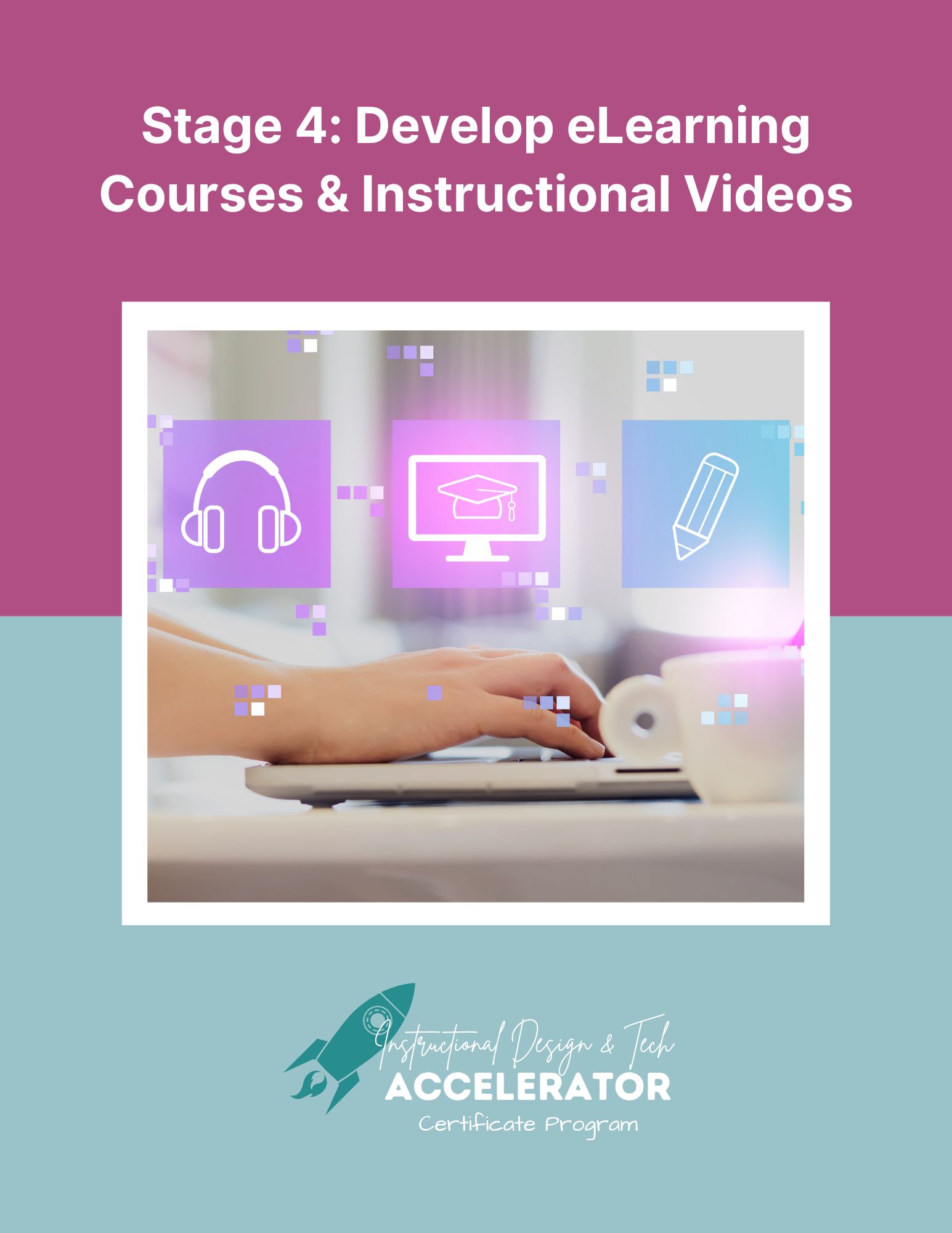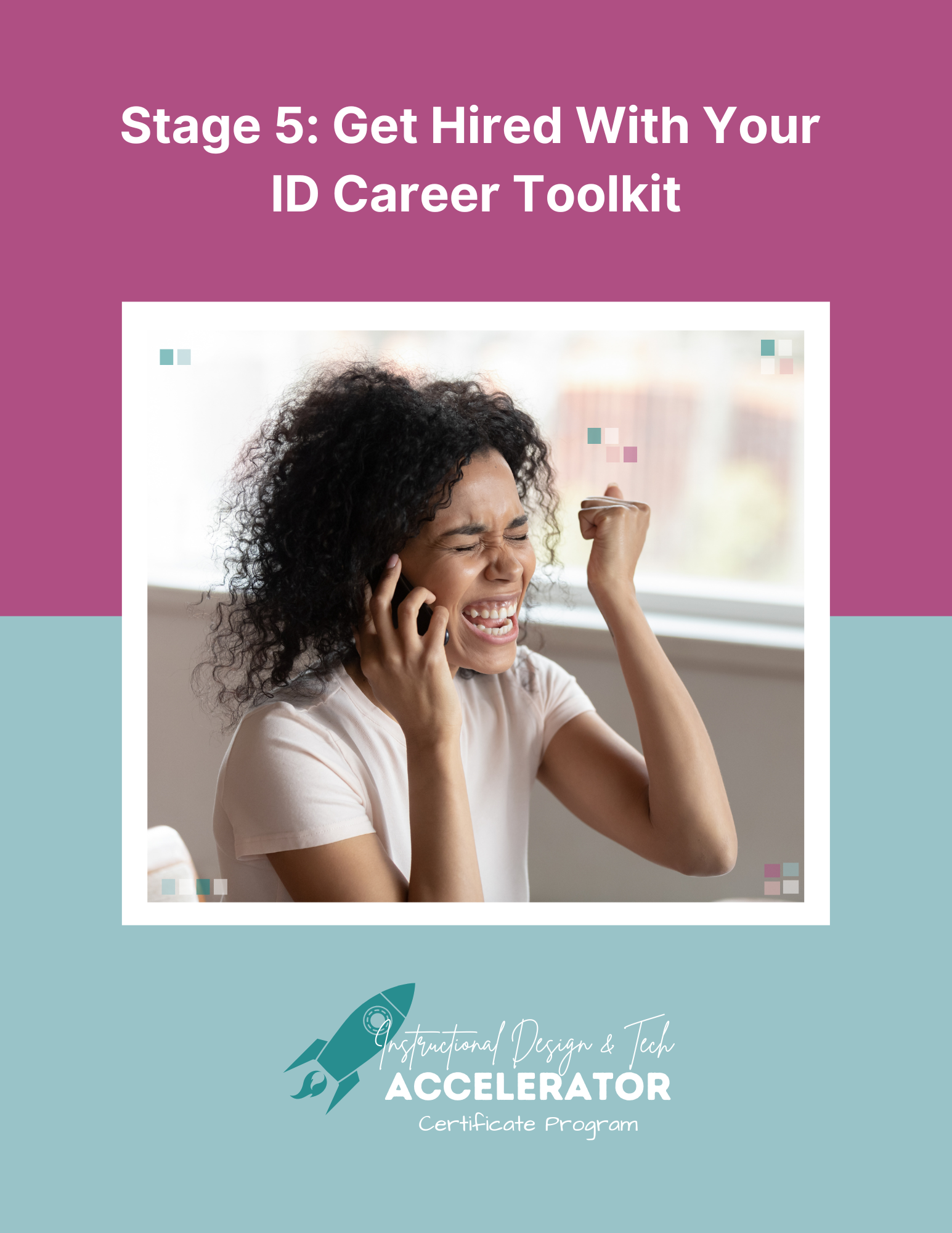 Stage 5: Get Hired With Your ID Career Toolkit


Now, we shift our focus to getting you hired as an instructional designer! You have completed your instructional design skill development with the completion of Stage 4 and now it is time to build your ID Career Toolkit and start applying for instructional design jobs.
In this stage, you will write your resume and cover letter, update your LinkedIn profile, and build your portfolio and fill it with the ID project assets you have created throughout this program!
Then, you start applying for instructional design jobs and start your real in-depth interview preparation and practice!
Once you land your first interview, share it in the community and we will celebrate with you! When you land your instructional design job, we will celebrate with you!
Templates provided!



Professionally Made Templates
($1500 Value)
In every stage of the program, you will find templates to help you design and develop your instructional design projects and to help you get hired as an instructional designer!
The templates included in the Instructional Design & Tech Accelerator System are professionally made and available for use during the course and beyond!
These templates are the perfect launching point for instructional design & eLearning projects!
A template can shave tons of hours of your development time!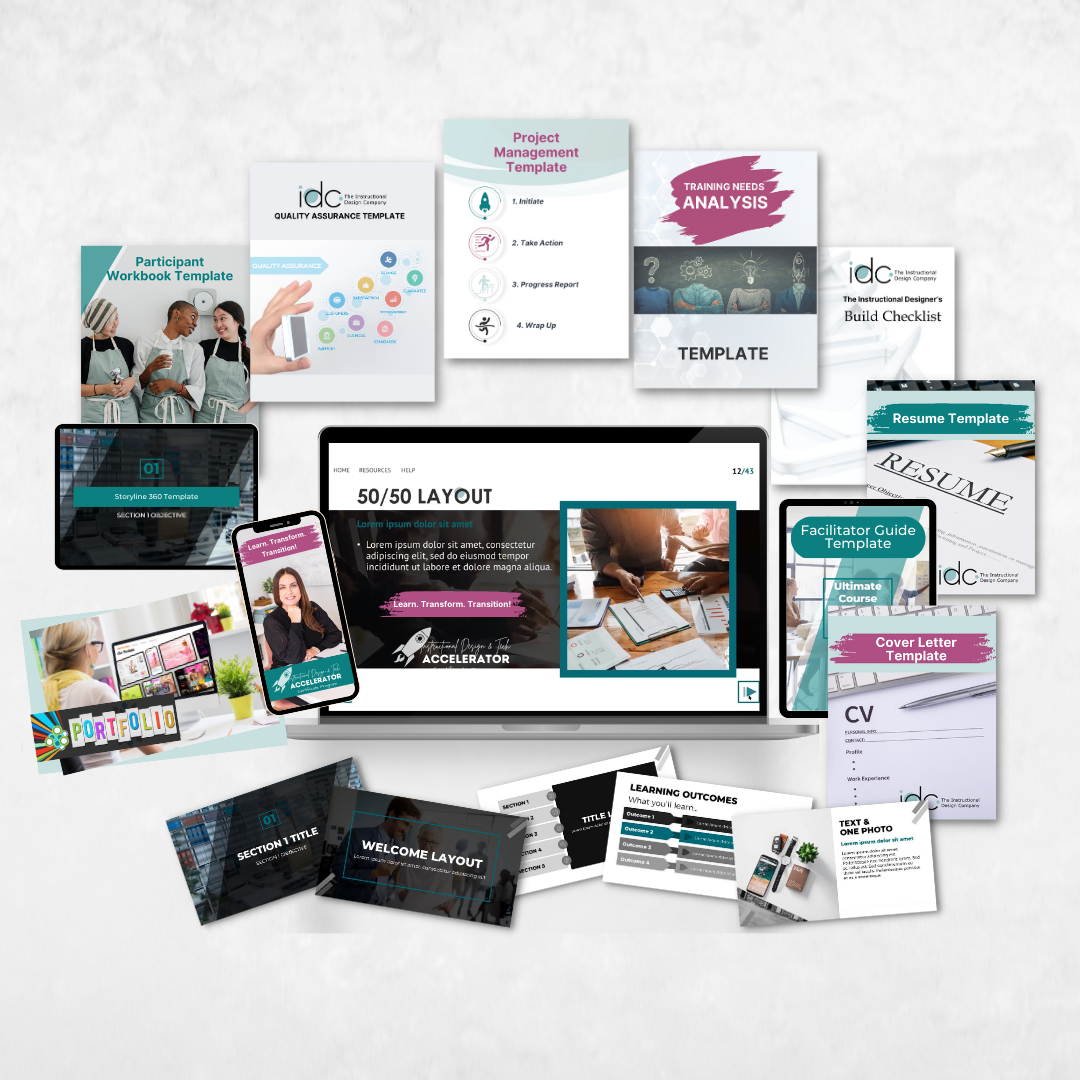 Are you an achievement junkie like many of our Accelerator students?

If so, you'll love earning these achievement badges along the way!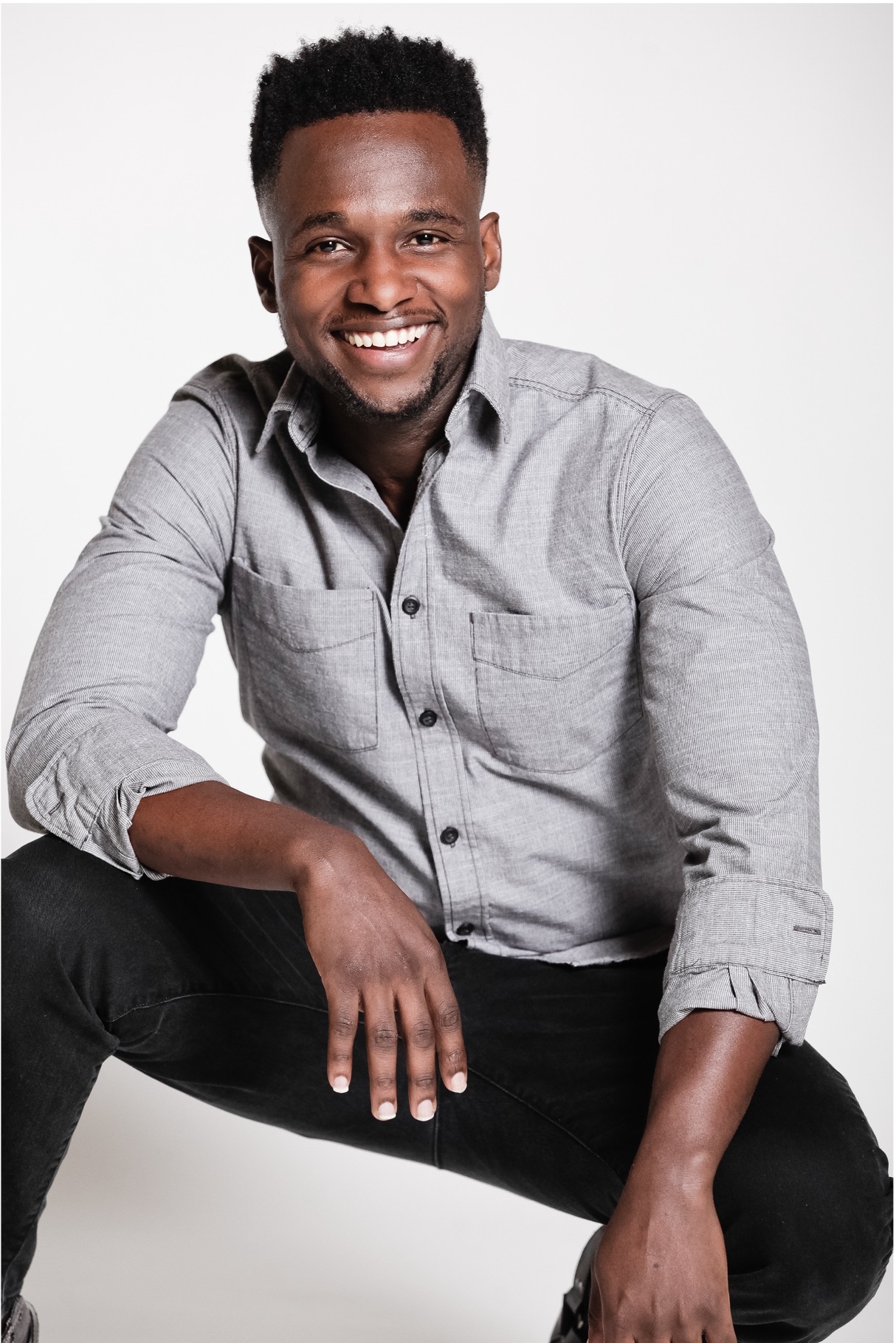 "Well worth the investment!"

"If you are wanting to learn Instructional Design, then you should take this program.

It will take you from zero knowledge to actually having a portfolio that you can show off.

It is organized, precise and thorough.

It is well worth the investment.

You won't be disappointed!"
~ TC Boyd, Digital Marketer to Instructional Designer


Earn 40 Education Credits!
The Instructional Design & Tech Accelerator curriculum has been pre-approved by the ATD Certification Institute for the Continuing education credits towards professional development hours for initial eligibility and recertification of the Certified Professional in Talent and Development (CPTD) and Associate Professional in Talent Development (APTD) Credentials. This program is approved for a maximum of 40 hours.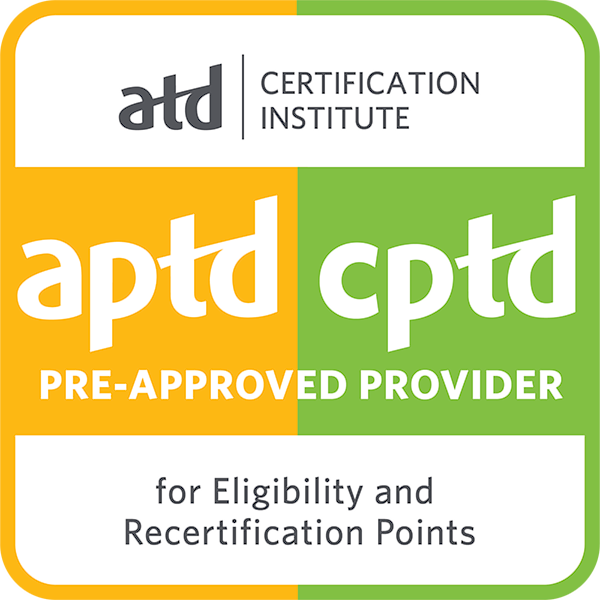 Choose the Pricing Plan that Works Best for YOU!


Gayle Bower
Graphic Designer to Instructional Designer

I joined the Instructional Design & Tech Accelerator Certificate Program because I struggled to find jobs in instructional design beyond the development phase. I've done a couple of training programs with lots of random projects, but I was overwhelmed, not connecting the dots, and not good at structuring my writing to hit learning objectives. I was looking for motivation and direction at beginning a better Instructional Designer.
After taking the Instructional Design & Tech Certificate program and joining my fantastic team for support, I found the structure and approach to be what I need to take my next steps, evening improving my skills in the development stage.
Shawntay's teaching is honest; sometimes, my mouth would drop when she says, a broke teacher, what could happen if not done correctly, or how difficult doing what we do as Instructional Designers to build information at the beginning. Not that I expected life to be easy, but she doesn't minimize it; she teaches you how to manage it and still get your job done on top of being motivated to do it. No teacher has ever been that forthcoming in my life. Now I know I am ready to analyze and apply project management methodology to build effective learning experiences.
Overall, the program's structure of picking a topic and then building it from the ground up really made me see what a creative process is. I got the experience I was searching for, and I never wondered to myself, "am I am doing this wrong" very often. The step-by-step application instructions for Storyline and Premiere Pro were terrific - even with my background as a graphic designer, that was new to me. The program's methods and structure set the standard by which all instructional designers should follow. The feedback challenges made me look deeper into my work.
Signing up for this program is one of the best choices I have ever made. I am more confident as an Instructional Designer and really understand the process so much better than I did a year ago. In the beginning, I knew what I needed but was shy about saying it out loud. I have walked away knowing that I am an instructional designer, not just a piece of it. THANK YOU, SHAWNTAY and KATIE.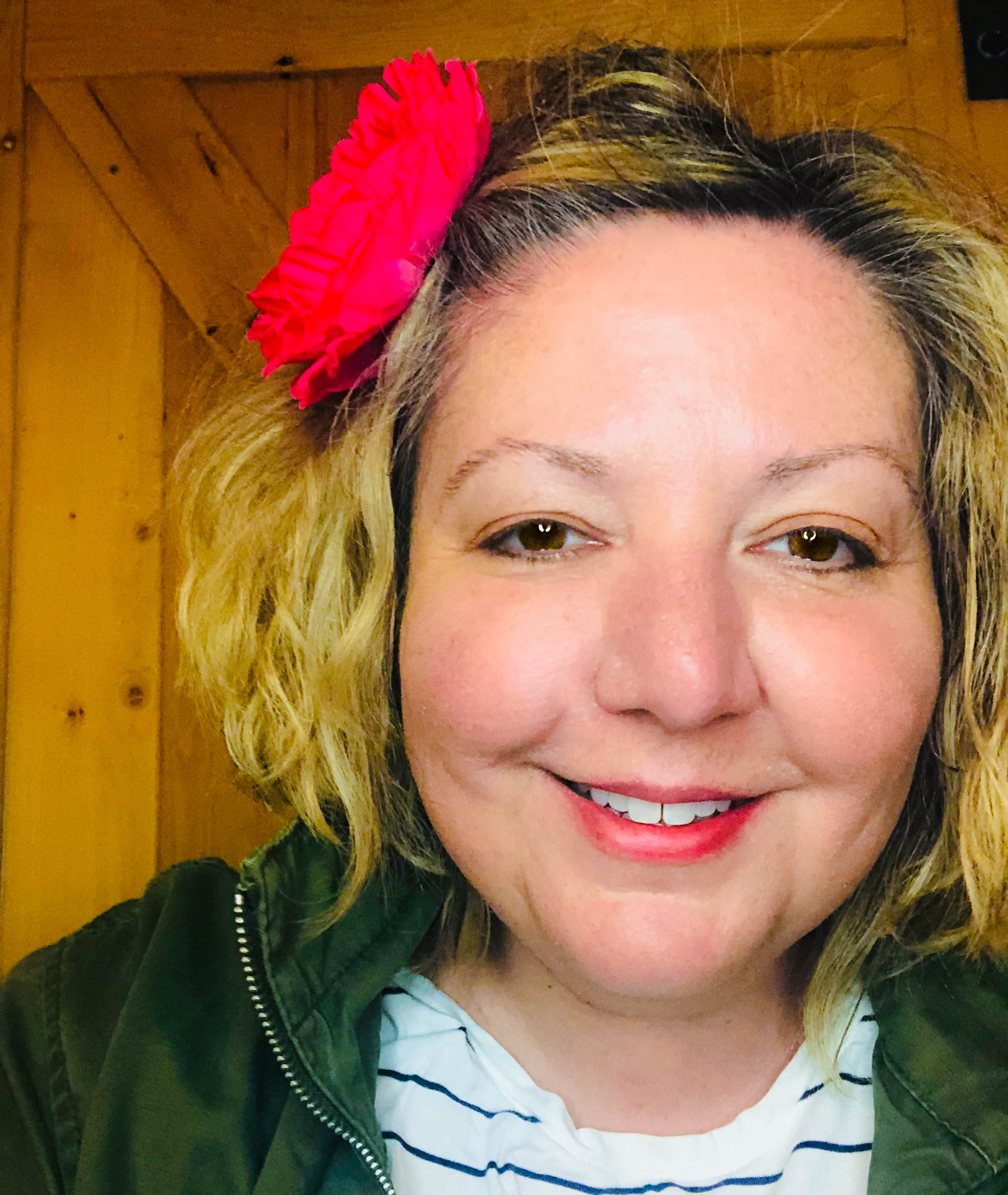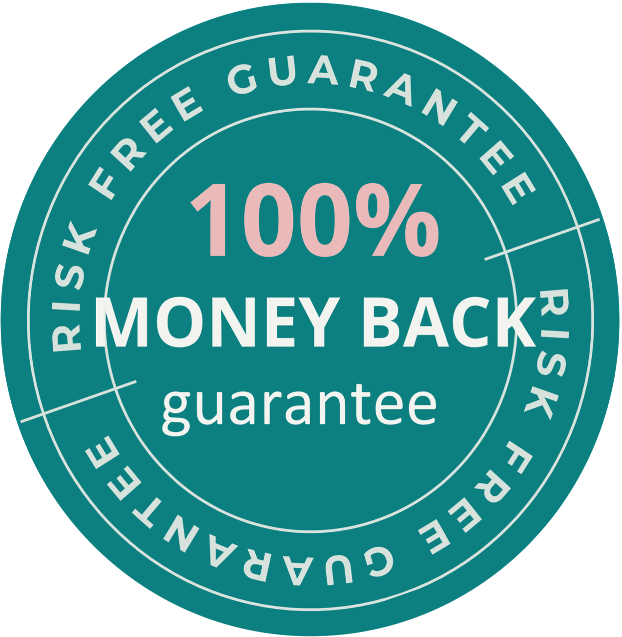 You'll Be Backed by a Risk-Free 14-Day Guarantee
The Instructional Design & Tech Accelerator System is one of the most comprehensive, accelerated, step-by-step systems for career changers, new grads, and teachers who are serious about getting seriously good at instructional design, eLearning, creating instructional videos, and who want to land an amazing new job in instructional design.
Our Instructional Design & Tech Accelerator Certificate curriculum is expertly curated with real-world learning experiences and our Accelerator community is filled with supportive members who want to change their lives and careers and be a part of this special group.

I am so confident in our system, that I am offering this guarantee: You will have 14 days to work in the system to give the curriculum, coaching, and Accelerator community a real try.
If during those first 14 days, you discover instructional design or this system isn't for you, simply reach out and show us that you've put in the work and we'll refund your investment. See Refund Policy.


Choose the Pricing Plan that Works Best for YOU!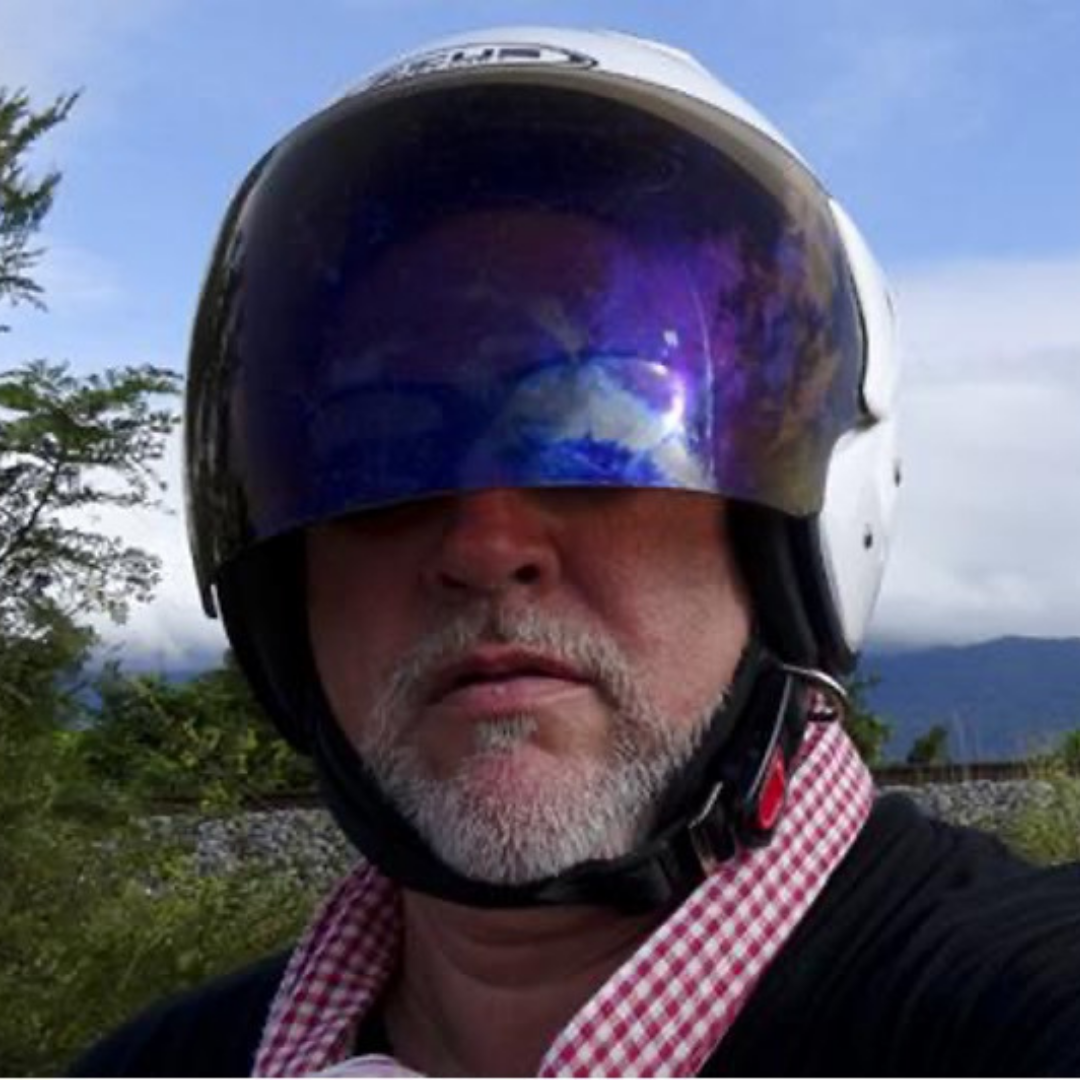 Lee R
Teacher Transitioning into Instructional Design

I am genuinely grateful for this course. I wanted a real-world perspective and feel like I got it. I'm teaching now, but nearing retirement age but can see myself working as an instructional designer well into my retirement years. My other goal is to take as many courses in statistics as possible in hopes of bringing some mathematical precision to the ROI question. Like you say, getting accurate metrics to measure ROI can be a challenge, but I intend to work on that part. That's unimportant right now, what is important is the fact that I feel like this course was well worth every penny I spent and I would to it again in a heartbeat. I have too much going on right now, but as soon as I get some time freed up I intend to take your course in project management.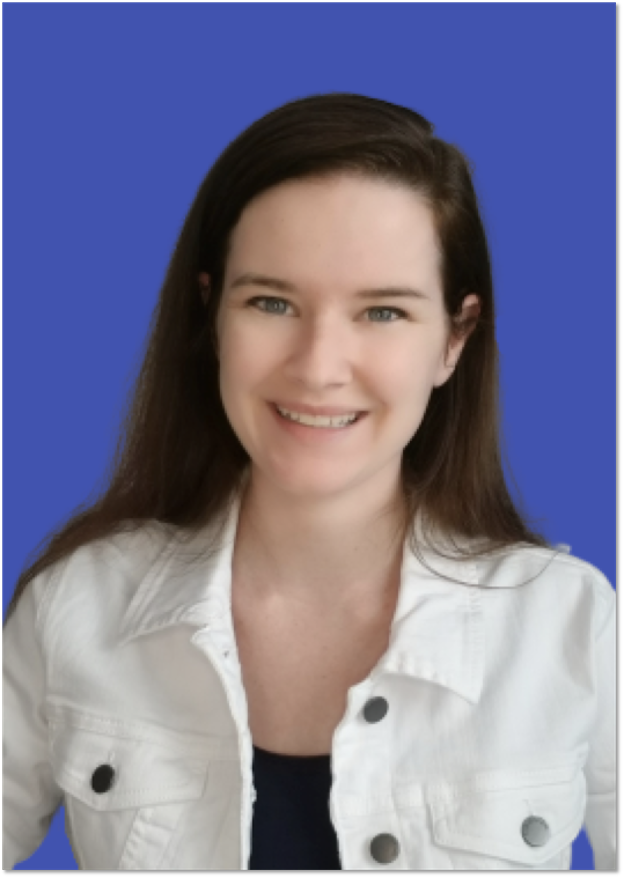 Sarah Smith
Freelance Instructional Designer

My teacher-to-instructional-designer journey began two years ago when I left my teaching comfort zone and started my first freelance ID job. Now, I'm stepping out of the classroom and taking my freelance work full-time, so I'm thrilled to be joining the Tech Accelerator program. Adding technologies like Articulate 360 and Adobe Premiere Pro to my qualifications will help me take my courses to the next level and attract more clients!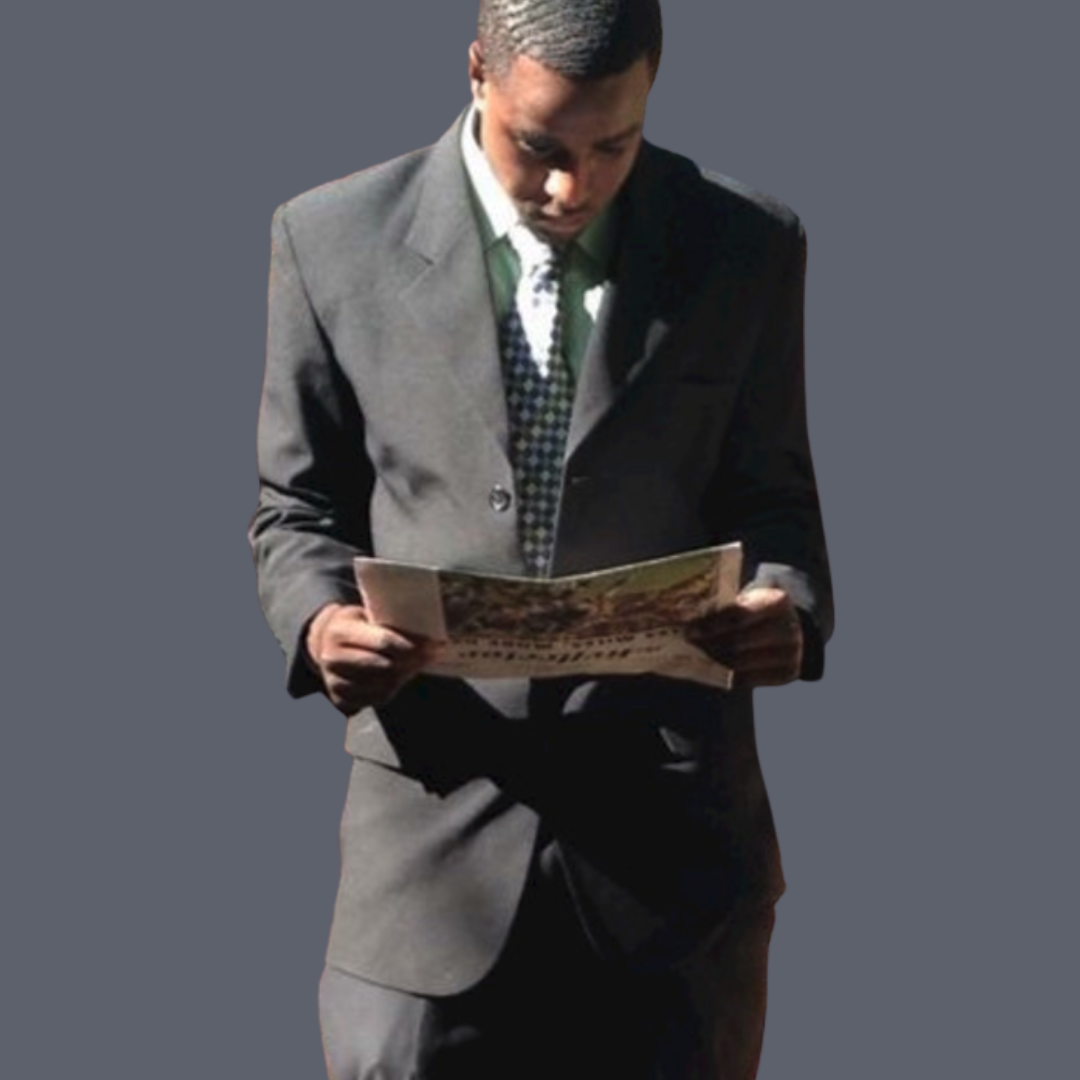 Brian Hightower
Instructional Designer Training Facilitator

Shawntay is an amazing individual. She is very knowledgeable in all aspects of ID and eLearning. She is also very compassionate and loves to help and see everyone around her grow and prosper. Shawntay has been a great mentor to me and she has helped me mature as an instructional designer and eLearning developer. She has provided me with opportunities when others have overlooked me. I am very grateful to have met and built a lifelong relationship with Shawntay.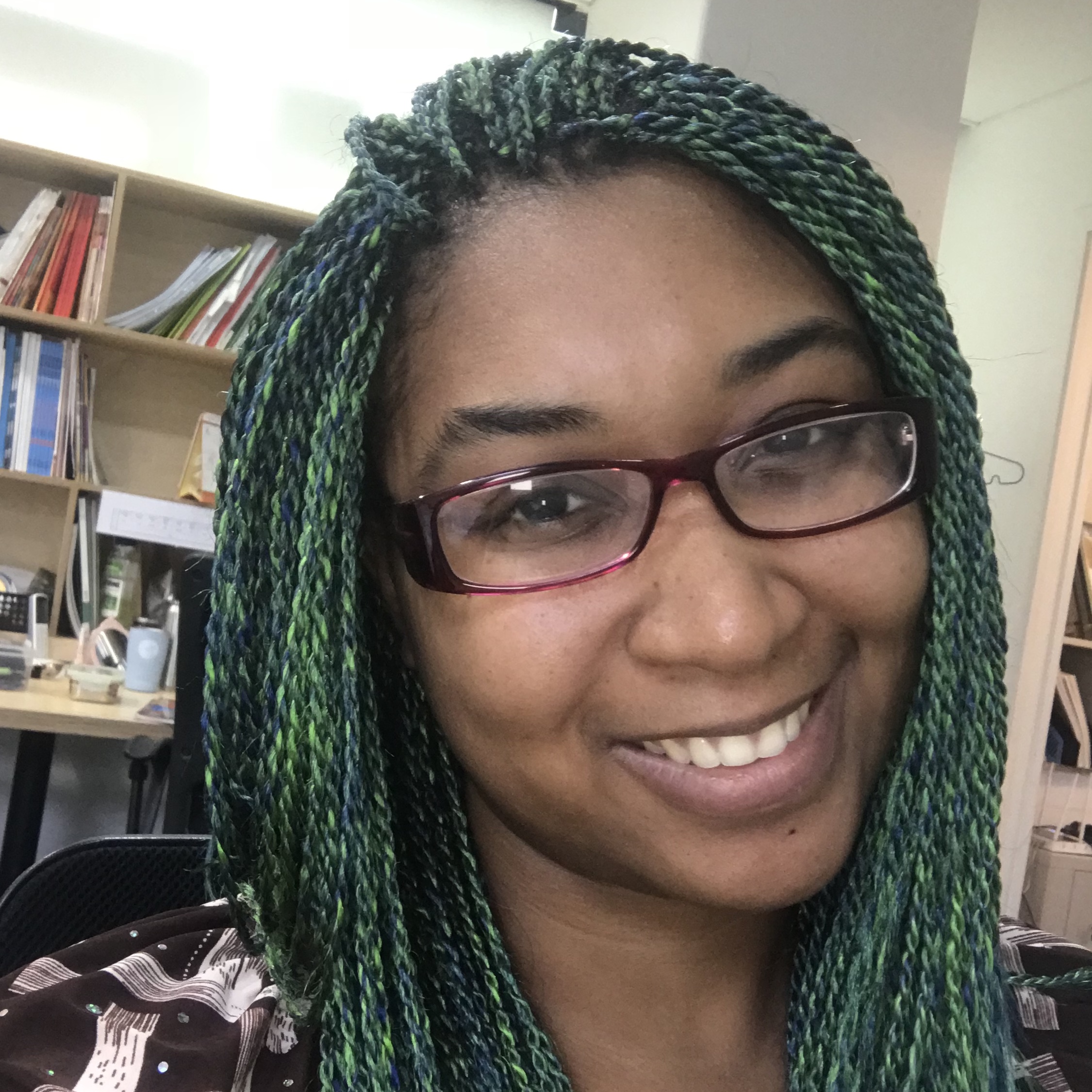 Shawnice Edge
Instructional Designer

This program is one of the most robust yet fulfilling L&D programs I've seen. I learned so much about the industry and about the limitlessness of my own capabilities. I am so appreciative of Shawntay and all of the trainers who took part in the program. They went above and beyond with not only guiding, but communicating live and working one on one or in small groups. If you are on the fence, I say take the leap and you will not regret it! There's so much to learn, not only from the trainers, but also the learners in your group. Everyone comes in with their own skills and can be additional support and guidance for you. Thank you for creating this program!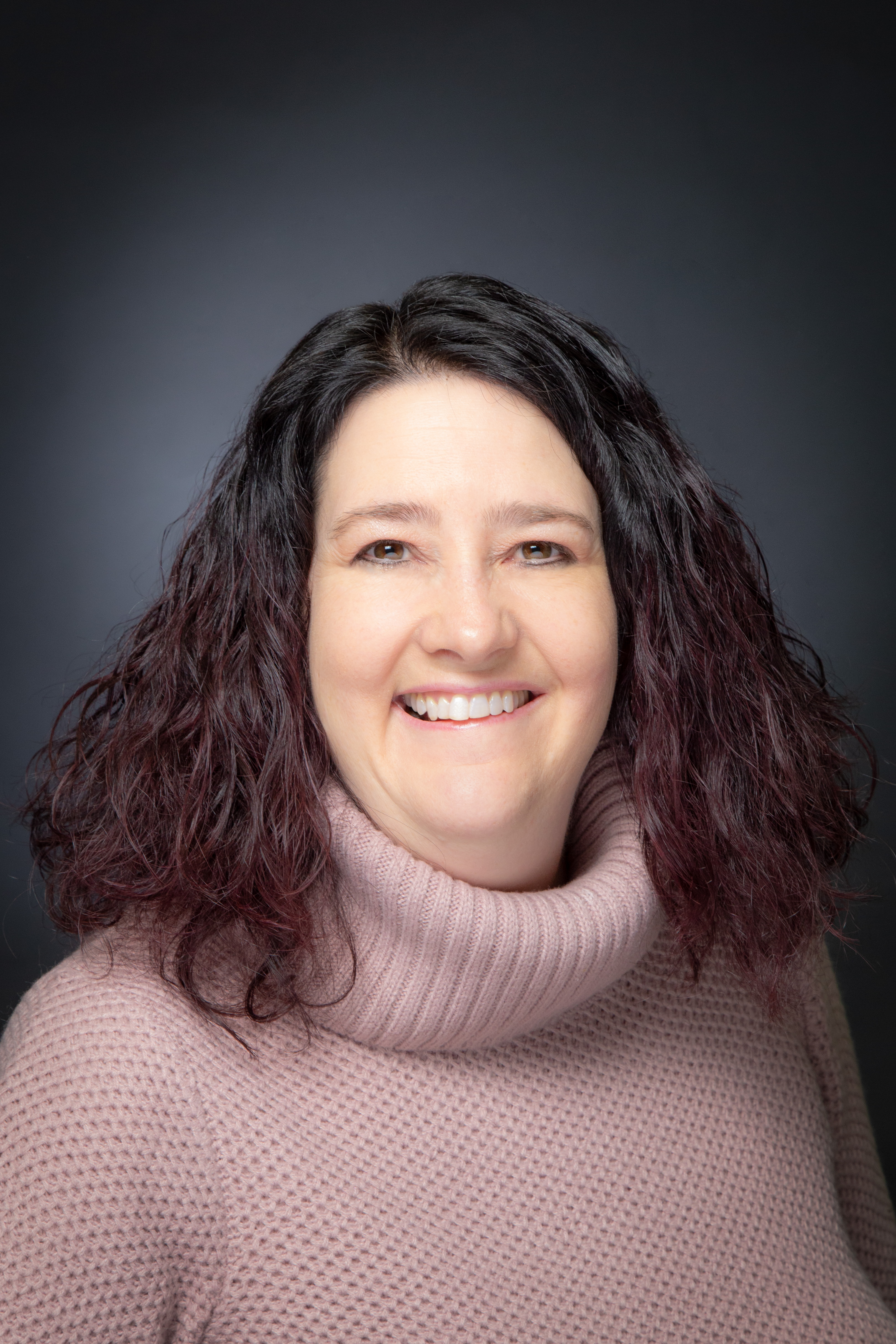 Darlene Dalgleish
Freelance Instructional Designer

I'd highly recommend the Instructional Design & Tech Accelerator Certificate Program. I'm blown away by how much I learned in just 12 weeks. I had ID experience prior to taking this course and was just looking to get a better understanding of applying adult learning principles. This course well exceeded my expectations! Not only did I gain a clear understanding of adult learning principles, I was also able to apply those principles by creating assets for your portfolio using PowerPoint, Adobe Premiere Pro and Storyline. The hands on support that we received was top notch.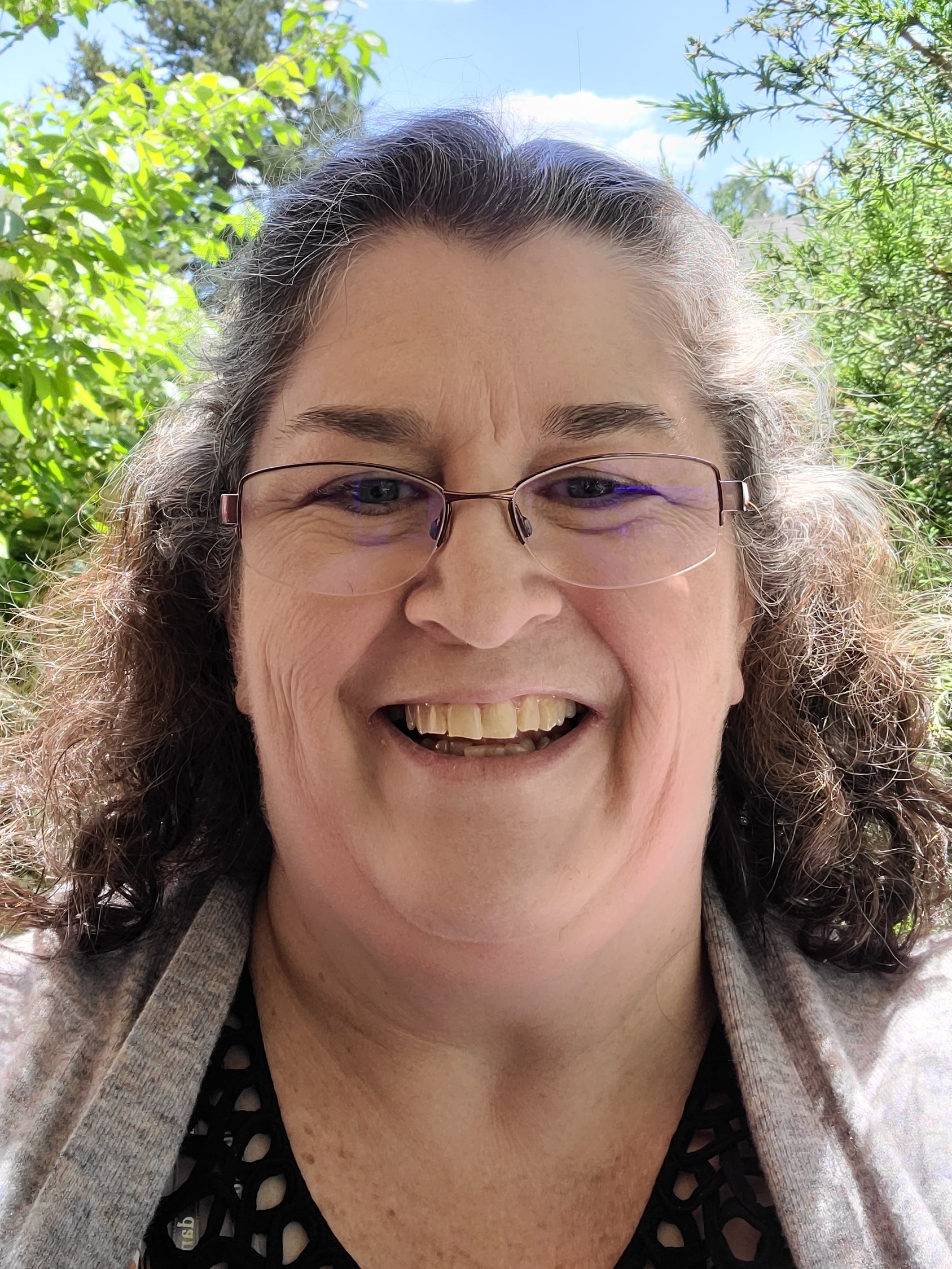 Dr. Jennifer Morrison
This program has been INCREDIBLE! I have enjoyed the short and informative lectures, which is something I intend to do it my own classes, as well as the triads for accountability. My group has a What's App chat that is ongoing all the time and will last long after the course is over. The weekly meetings gave us a chance to see what was going on, and some allowed us to find out how it REALLY is from people in the ID field. I am not finished yet, but I have learned so much to use in my regular online courses. I would encourage people interested in ID or online instructors interested in giving their courses a little more umph!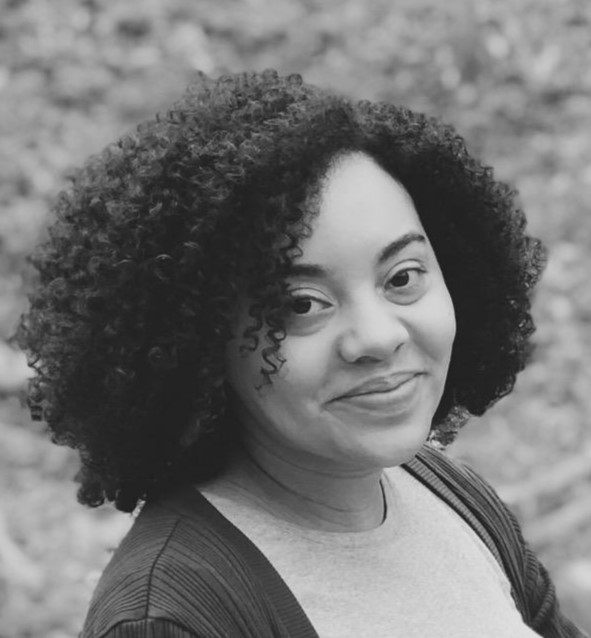 Krista Johnson Awomoyi
Instructional Designer

I can't say enough great things about the Instructional Design & Tech Accelerator Certificate Program! The length of the program is perfect; it doesn't feel rushed and there's just the right amount of structure to give you the accountability you need. There are so many opportunities to get live answers to any questions you have related to the course content or anything ID-related! This program gave me the support and structure I needed to both feel affirmed in the relevant skills I already had coming in and to fill in the gaps I had as a career-changer going into ID. Shawntay, Katie, and all the coaches are super helpful and supportive. I now feel confident that I have the tools and access to resources I need to apply for ID jobs without wondering if there's something I'm "missing" in the preparation process. I'd highly recommend this program to anyone wanting to transition into ID or who just wants to brush up on their skills in the field.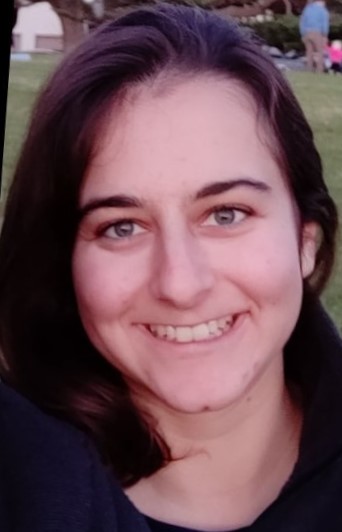 Aviva Berkowitz
Instructional Designer

I am really enjoying this program! It's prerfect for someone who is thinking about a career shift to Instructional Design and does not have a lot of experience. This is my first real introduction to Instructional Design and it's been the perfect beginner course to help me get my feet wet. The modules are broken down well and it's great to go at your own pace and at your own time. The modules themselves are very comprehensive and you learn a lot from all of them. I really like how each one build upon each other and you're working towards the bigger project of designing your first training course from scratch. I'm learning so much from going through this course! I was provided great feedback from Katie and Shawntay through the process via Trello Boards, comments on the Google documents, and Facebook group. This course has been well worth the time and effort and I appreciate the fact that I will always have the resources available to me after I complete the training (just in case I'm not quite ready to transition yet).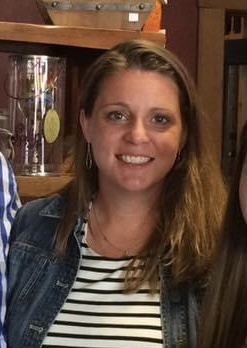 Shanna Howe
Future Instructional Designer

If you have any interest in ID, sign up for this program NOW! Shawntay and her team are top notch! The course content exceeded my expectations in a big way and the encouragement and support continues to be so valuable. You will not feel alone going through this course, you will learn so much, you'll have many cheerleaders, and you will have fun!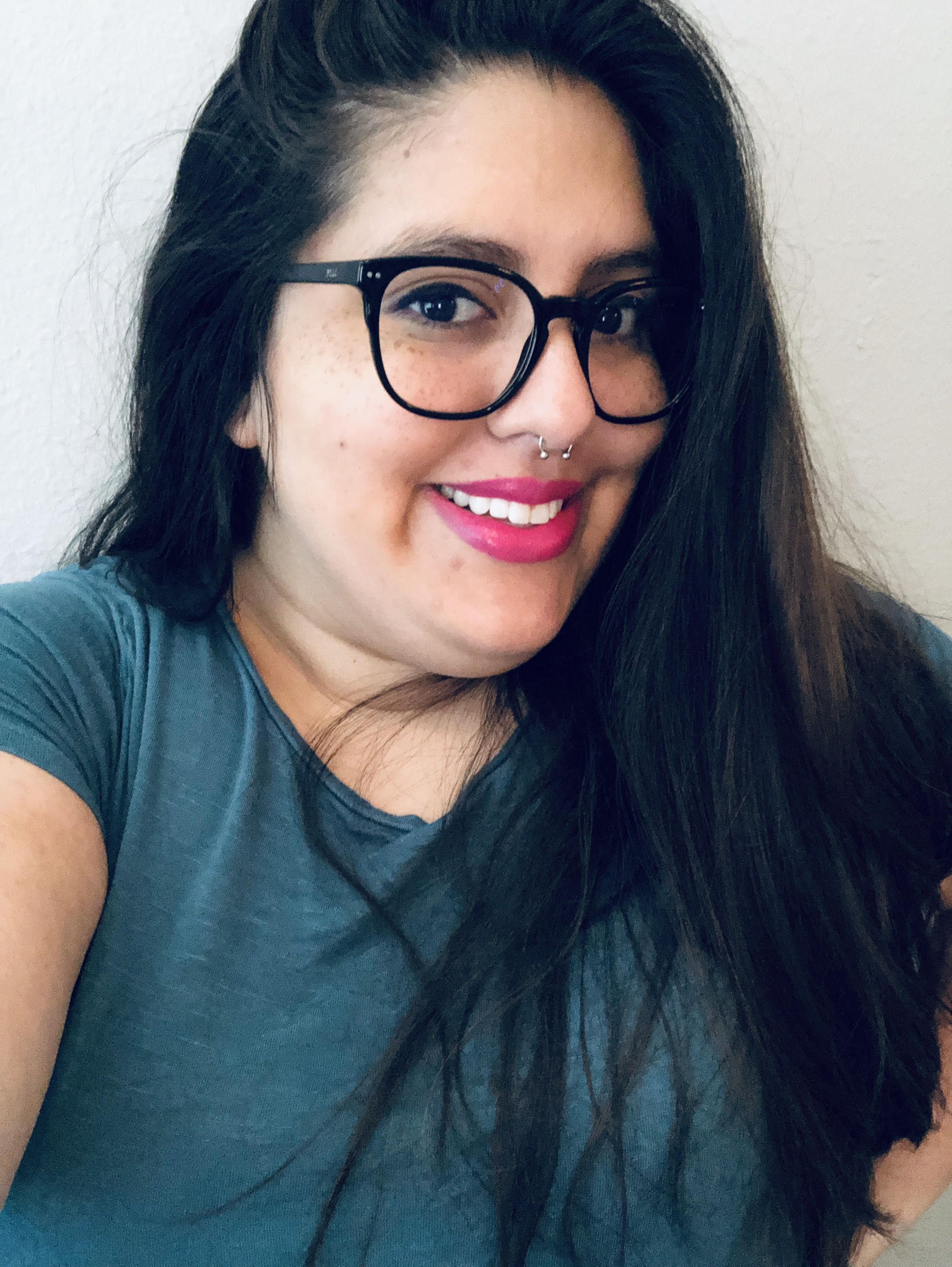 Gabby Grimaldo
L&D Project Manager

The Instructional Design & Tech Accelerator certificate program is one of the most comprehensive ID programs out there for beginners. If you're looking to grow your schools in ID and development then I highly recommend this program. Not only will this program give you an overview of theory, but you will receive a thorough walkthrough of how to apply what you have learned. Although I had already secured a position in Learning & Development when I bought this course, it helped me to move up into a new position as a Learning & Development Project Manager!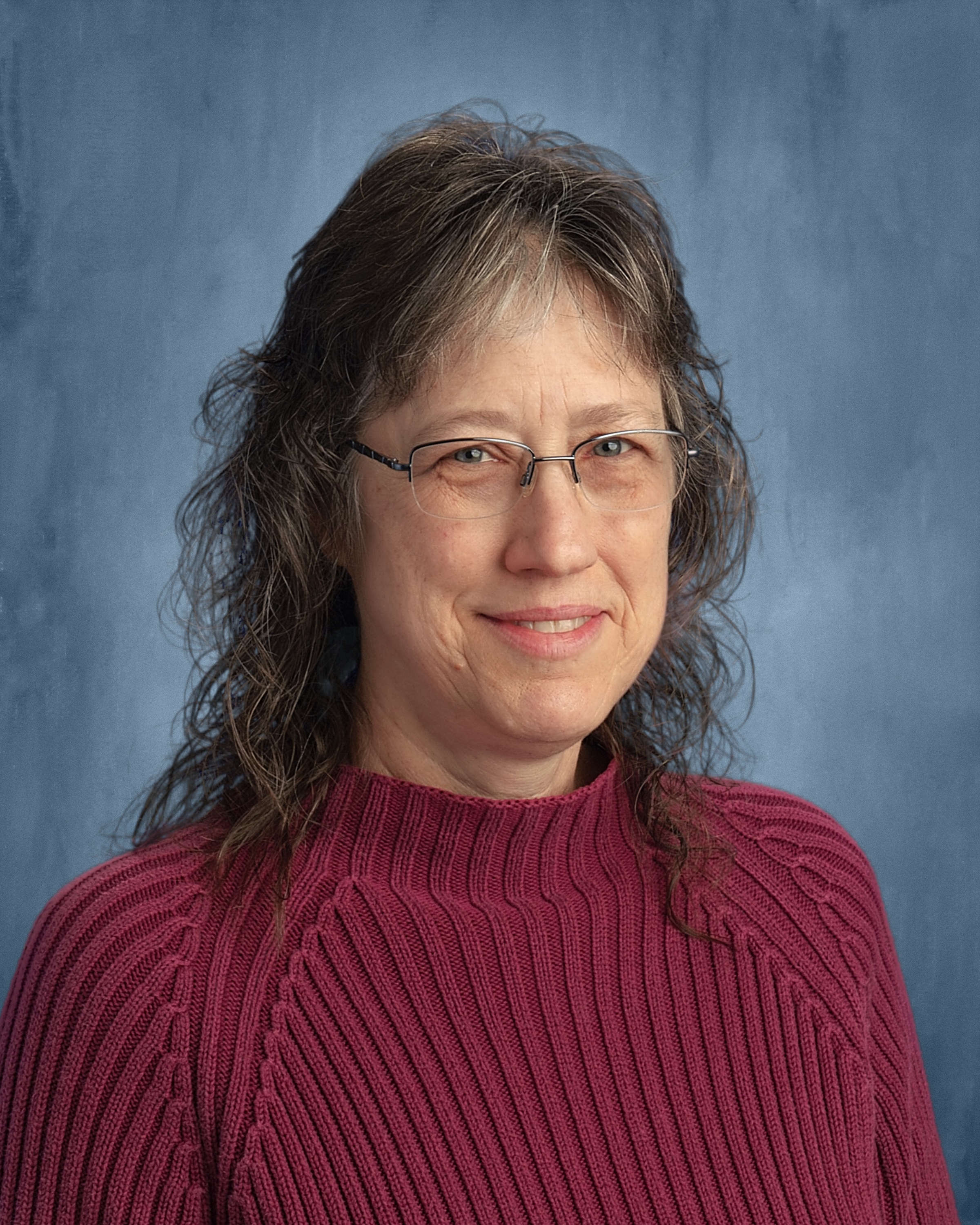 Wendy McMillian
Teacher, Future Instructional Designer
I have searched for the last few years to find some suitable career change where I wouldn't have to earn another degree and where I could use the talents and skills I already have as a teacher. When I came across the Instructional Design Accelerator course, I loved the fact that Shawntay was a former teacher and could relate to a teacher's need to transition from the classroom. This was what sold the course for me. Her experiences are invaluable especially when translating teacher duties to instructional designer duties. I would (and have) recommended this program to other teachers I know who are looking to transition out of the classroom. I do appreciate ALL of her feedback on my projects!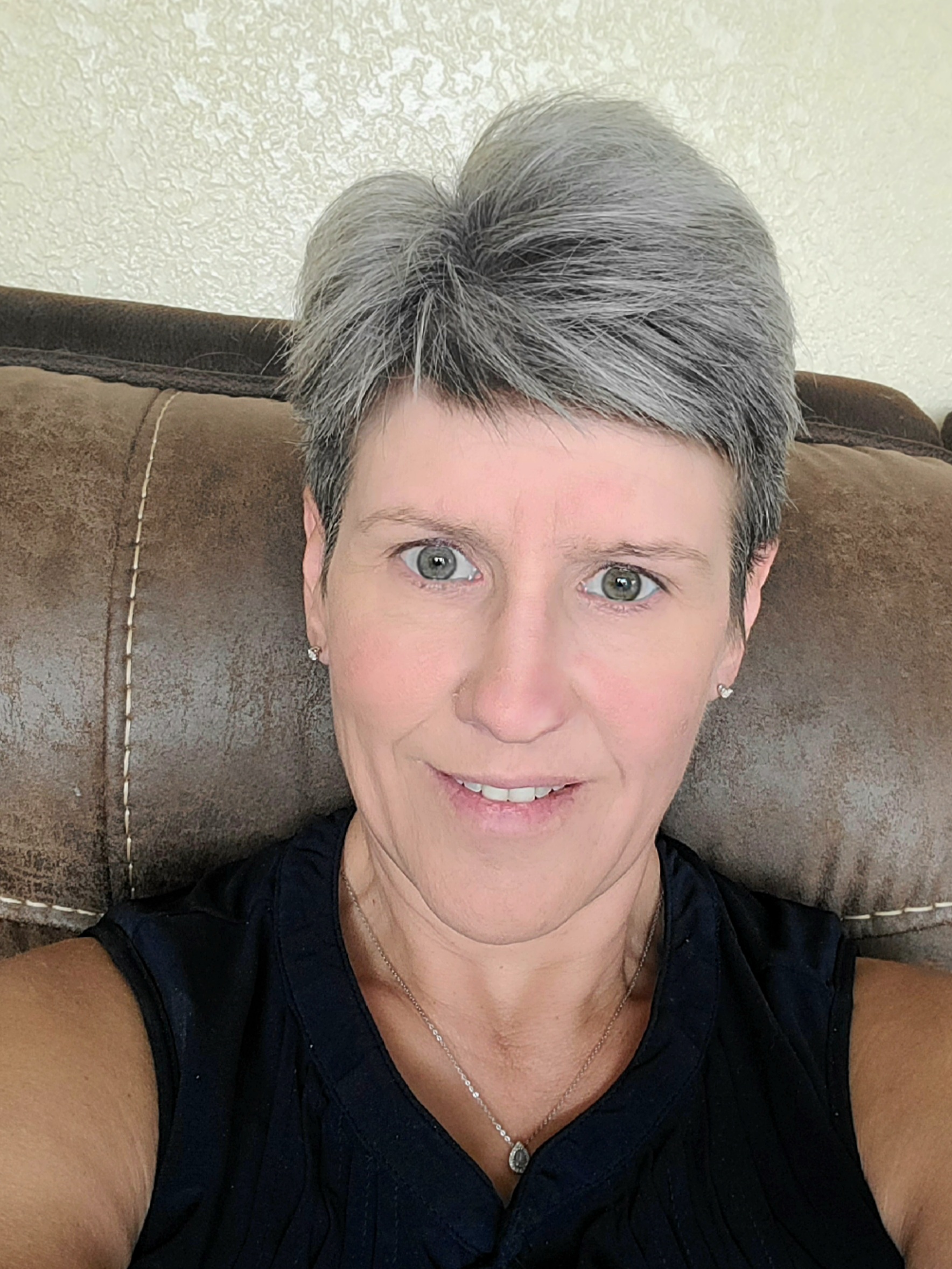 Laurie Henderson
Teacher, Future Instructional Designer

I love how this course let's you work at your own pace. I got great tips and learned many things. The ongoing support for multiple people and groups is what I love the best. You are never alone in this process. I have been able to adjust my resume and began creating a portfolio of work I've completed to add when applying for jobs. I use many of the PowerPoint skills in my lessons and trainings. I would highly recommend this for anyone wanting to become an instructional designer.

Need Help Convincing Your Boss? Want to Pay Via Purchase Order?
If you have a job where you are already creating training solutions or are expected to create training solutions in the next year, why not ask your boss to cover the cost of your enrollment in the Instructional Design & Tech Accelerator System?
Many of our Accelerator students found themselves in a situation where they were expected to create learning solutions but weren't quite skilled up so they turned to the Instructional Design & Tech Accelerator Certificate System for support. And, the best part is that they got their boss to pay for it!
If your boss prefers to pay via purchase order, just reach out to us at [email protected] so that we can help you get that processed.

FAQs...
What's included in the ID & Tech Accelerator System?
The Instructional Design and Tech Accelerator System includes 1) lifetime access to the curriculum consisting of 100+ lessons, a 200+ page course companion, and numerous templates; 2) 3 months of small group coaching sessions; 3) 3 months of work reviews with feedback; and 4) lifetime access to the Accelerator community.

How long do I have access to the ACCELERATOR program?
You get lifetime access to the curriculum, 3 months of access to small group coaching, 3 months of access to work reviews and feedback, and lifetime access to the community.
I don't live in the United States. Should I enroll in the program?
If you want to transition into instructional design and eLearning, yes, this program is for you and we welcome you to enroll!
I'm interested but can't afford it...what should I do?
Financial investments in our own development can be tough when money is tight. Because of that, I offer a payment plan to help spread out the cost of the program. A small investment now can lead to a better opportunity in the near future. I don't encourage anyone to do anything that will be financially harmful or cause too much of a burden on life. If you can make the 10-payment plan work, I encourage you to do that. If it doesn't work for you right now, there will be other opportunities. Prices may increase.
I work full-time and have limited time...can I do this program?
Absolutely. You can move through the curriculum on your own terms and timeline. What is important is that you continue moving forward and keep working towards the completion of the course. You have lifetime access to the curriculum.
Do you offer a guarantee?
We would never want you to be unhappy! If you are unsatisfied with your purchase and you have rolled up your sleeves and done the work laid out in the curriculum, contact us in the first 14 days and we will give you a full refund. See Refund Policy.
I'm feeling a bit overwhelmed by all the things I am going to learn. Can I really do this?
If you are committed and you feel comfortable with technology, yes, I believe you can do this! For the times you get stuck, we are very accessible to answer questions and you have live coaching sessions to get support from experienced professionals.


I'm not a Facebook User, how will I access the recordings and live sessions?
If you are not a Facebook user, you will not be able to tap in the power of the Accelerator community. The curriculum itself resides in the Teachable learning management system outside of Facebook so you can easily access the curriculum without Facebook access.

Do I need to purchase an Articulate 360 license to complete this program?
No, you do not need to purchase an Articulate 360 license to complete your Storyline and Rise projects in the Instructional Design & Tech Accelerator System & Certificate Program.